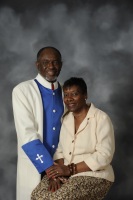 Rev. Dr. John R. Halbert is the second of twelve children born to the union of Mr. and Mrs. Jessie Halbert. Born in Steens, Mississippi, Rev. Dr. Halbert attended Robert E. Lee Hunts High in Columbus, Mississippi and graduated from Flint Northern High School in Flint Michigan in 1972.
Rev. Dr. Halbert was ordained an Itinerant Deacon on September 15, 1977 and ordained an Itinerant Elder on September 14, 1978 in Flint, Michigan at Quinn Chapel AME Church by Bishop Hubert Nelson Robinson.
He continued his education and graduated from Wilberforce University with a Bachelor of Liberal Arts Degree in 1982, and Minor in Business Administration. He received a Masters of Divinity from Payne Theology Seminary in 1985 and was awarded "The Best Preacher Award" and a Doctor of Ministry from United Theology Seminary in Dayton, OH in 1997.
He has served in the pastoral ministry for 33 years and serves the community through leadership roles as board member of several reputable organizations. Rev. Dr. Halbert has enjoyed a happy life with his wife, Mrs. Mae Halbert and three sons, Nicky and twins Sedrick and Reginald.